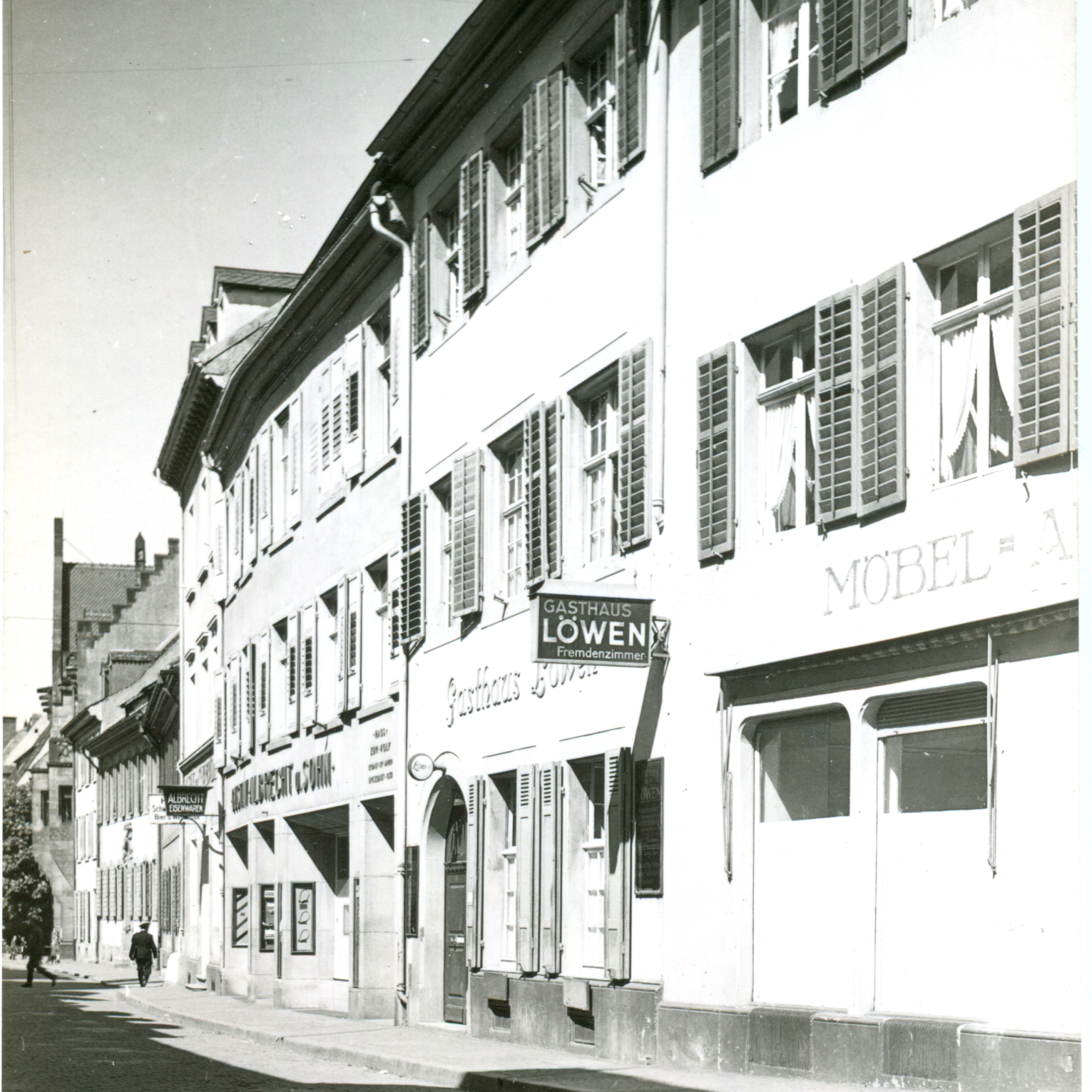 »Zum Wasservogel – Inn Löwen«
Herrenstraße 47 – formerly Pfaffengasse Nr. 583 (formerly 383)
Today's inn Löwen was first mentioned in 1460 as the house "Zum Wasservogel". Through the centuries it was a typical craftsman's house. For the first time between 1789 and 1810, Michael Eckstein set up a wreath inn here for a short time (= precursor of today's "ostrich inns"). After that it was the house of milliners and shoemakers before the Münster Sigrist (Meßmer) Michael Hauser moved in here in 1829. Between 1845 and 1879 it was owned by the Meier Küfer family and briefly housed Gustav Bühler's bookshop and then Karl Wangler's Viktualienhandlung.
In 1880, Dominik Müller, who was also a coppersmith at the same time, started the time of the inns.
In 1904 it was initially known as the "Zum Kamel" inn, before being renamed "Löwenbräustüble" in 1928 and finally the "Zum Löwen" inn in 1931. The inn has been offering its guests since 1941 also some hotel rooms.
For many years, the Löwen was the only inn in the city center that still offered hot food after midnight – the knuckle of pork is still well-known today – and special many artists and actors use and use this offer after their performances and concerts.
TEXT: Gefördert im Rahmen des Stadtjubiläums durch die Stadt Freiburg. • Bildnachweis: Stadtarchiv
Freiburg, Rolf Bauer • Idee, Text und Gestaltung: Christian und Iso Himmelsbach, artforum3 ©2020